Contact
JUSTIN HOLT CATTLE, ABERDEEN, SD,
is comprised of Justin & Kali Holt Family. Both Justin and Kali grew up showing livestock competitively across South Dakota and the Midwest. Their undeniable passion for the livestock industry is what feeds this family business. With the love of Chi influenced cattle passed down from Justin's father, "Holt Brothers" was formed with Justin's brother Jordan, with the main focus in raising Chiangus cattle for breeding purposes as well as raising club calves. With families growing and business aspirations changing, Justin and Kali, along with their daughter Charlee and sons Cooper and Jayden, formed Justin Holt Cattle with the understanding that they will continue to provide the same great quality and customer service as in years past. For the past twenty years, Justin has been building his herd to over 200 head of quality, high performance cattle and is proud to be able to meet every customer's demands. It has been a dream of Justin & Kali to be able to share their passion for the livestock industry with their children someday and that dream is becoming a reality. This is truly a family business where you will find each member plays a specific role. Justin, Kali & family can be spotted at many of the shows across the nation lending a helping hand to junior members and other breeders as well as exhibiting themselves. Justin Holt Cattle is a proud supporter of junior members and is always willing to help up and coming youngsters; they are who holds the future. You are sure to find JHC genetics in the hands of junior's across the nation with a history of success in the show ring not only at the local and state level, but also very notably on the national level.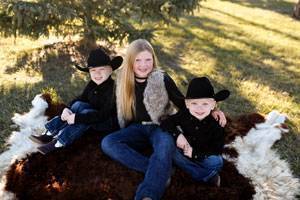 Justin Holt Cattle has recently expanded their operation to a ranch near Wessington Springs, SD in addition to their Aberdeen, SD location.  Their annual club calf sale is held at the Wessington Springs location where they offer their best selection of show steer and show heifer prospects right out of the pasture in September as well as a "Black Velvet Female Sale" in December and "Hybrids for Profit" bull sale in the spring offering their best performance driven Chiangus females and bulls meant to fill the needs for both the commercial and progressive seed stock producers. Give them a call today or stop by to tour the pastures. Visitors are always welcome.